Weather on "the Farm"
Welcome to my Weather Station info in Fairfield, KY.
The weather station in use is the Davis Vantage VUE, and these pages are updated every 10 minutes. The meteorological day used at this station ends at midnight.
Conditions as of local time 03:10 on 11 August 2020
Latitude N 37° 56' 02" Longitude W 85° 23' 17" Elevation 716 ft
Current Cloudbase is 692 ft. Forecast: Unsettled, rain later; Increasing clouds with little temperature change. Precipitation possible and windy within 6 hours.
Dawn:
06:25
Sunrise:
06:54
Moonrise:
00:29
Last Quarter

Dusk:
21:07
Sunset:
20:39
Moonset:
14:21
Daylight:
14:41
Day Length:
13:44
Gauges
NOAA Reports
Temperature
Now: 68.1°F
High:

72.7

°F at 00:00
Low:

68.0

°F at 03:01
Precip:
Today: 0.00 in
Yesterday: 0.06 in
Last Rainfall: 2020-08-10 13:28
Wind:
Current gust: 0.0 mph
Current avg: 0.0 mph
Bearing: 0 -
Current Beaaufort: F0: Calm
TESTING:


Year High Temp:

100.0

Year Low Temp:
-1.1


Alltime High: 100.0

Alltime Low: -5.2


Heat Index
Now: 68.1°F
High: 72.7°F at 00:00
Wind Chill
Now: 68.1°F
Low: 68.0°F at 03:01
Pressure:
Current: 29.910 Falling

Humidity:
Current: 90%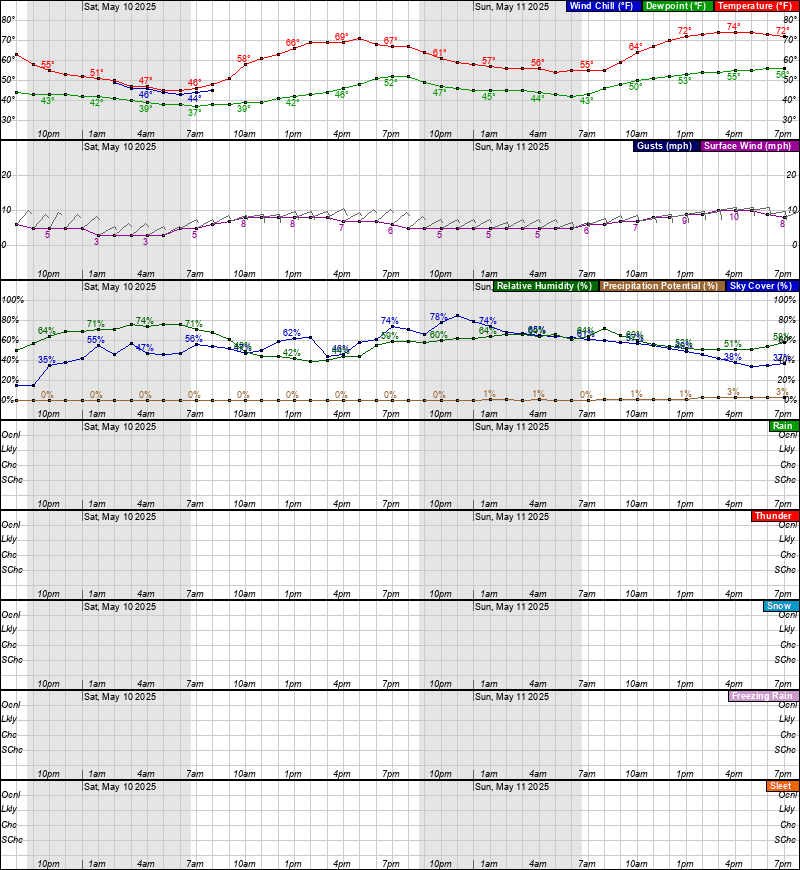 Fairfield, KY



Louisville, KY Weather -- National Weather Service



Fairfield Farm


View from front window





Cleveland, OH
Cleveland, OH Weather -- National Weather Service



Cleveland, OH





Macinac Island, MI
Macinac Island, MI Weather -- National Weather Service

Mackinac Island
Horn's Bar


Clearwater/Dunedin, FL
Clearwater, FL -- National Weather Service

Clearwater Beach, FL




This Month's Temperature Outlook

This Month's Precipitation Forecast
Tropical Storms

Gulf of Mexico Water Temperatures (Temperature Map)